Top Mobile Crypto Exchange Apps in 2022
The biggest challenge with crypto payments is making them accessible and convenient for mainstream users. In terms of convenience, having a mobile application that allows users to swap crypto and fiat currencies is the best option. However, this may raise questions in regards to security and privacy terms to using the app.
Having a reliable and trustworthy entity behind the service is really important. These are the most reputable exchanges that also have a mobile app for crypto-to-fiat exchange transactions. Looking at terms of conditions, privacy, and security of the app, one can be better informed when choosing a crypto exchange service.
ChangeNOW is an instant crypto swap platform that allows users to instantly exchange, buy, or sell their assets. Operating since 2017, ChangeNOW strives to provide fast and easy-to-use crypto swap services without sacrificing user privacy. Over 70,000 currency pairs are available with over 380 crypto assets and about 60 fiats listed, and no trading limits are imposed which makes ChangeNOW stand out among the competition.
Mobile application
ChangeNOW is available for iOS and Android smartphones. It has the same features as the web version of the platform which includes fiat payments. Users can purchase crypto using VISA or Mastercard bank cards.
Registration and verification
No registration or verification is required to use ChangeNOW. Swaps can be done effortlessly and funds will be sent straight to the crypto wallet address that is provided by the user.
Privacy
ChangeNOW's Privacy Policy states that personal information can be collected and used in order to provide services. However, since the exchange is non-custodial users are not asked to provide any sensitive personal information that could be used.
Security
The main security measure while using ChangeNOW is to remember and store private keys securely. Self-custody requires a certain level of responsibility since the platform is not responsible for user funds or accounts. However, ChangeNOW takes measures to safeguard transactions performed on the platform.
Pricing
Transaction fees range from 0.5% to 1% depending on the type of exchange rate chosen: fixed or classic. The classic rate uses the best available rate on the market and fixed-rate saves the rate at the time of initiating the exchange. This can help if the market is fluctuating but payment might be needed to cover the extra spread. Otherwise, ChangeNOW's services are free of charge.
Gemini is a cryptocurrency trading platform that has been operating since 2015. Its founders Tyler and Cameron Winklevoss made a name for themselves as Harvard University students who sued Mark Zuckerberg over Facebook. After investing in Bitcoin and Ethereum, they started their crypto venture, Gemini exchange. Current services also include Gemini Earn, Gemini Pay, and Gemini Wallet.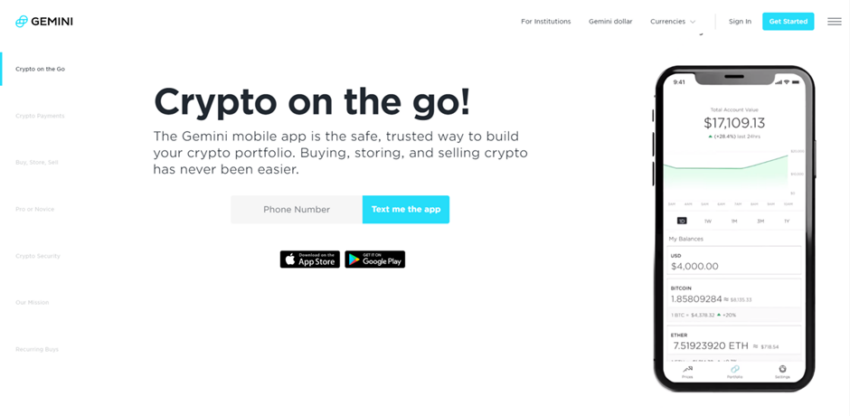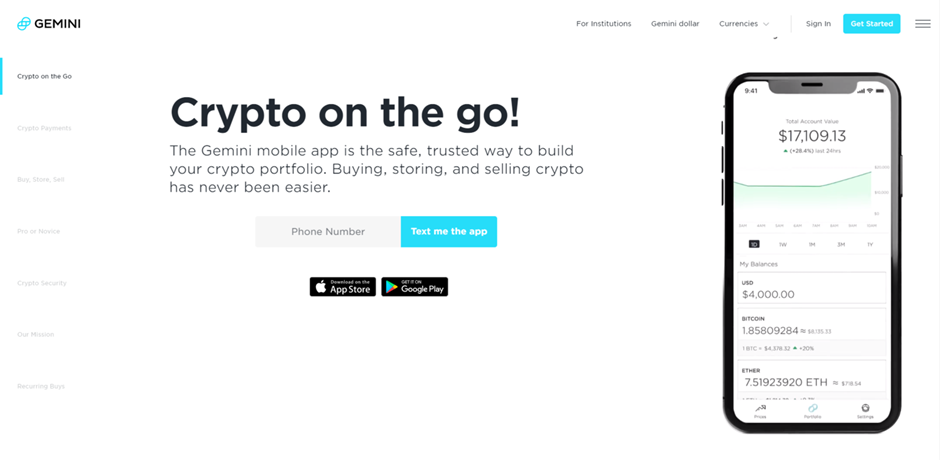 Mobile application
Gemini is available on both App Store and Google Play Store. The mobile application has the same features as the desktop and web versions of the platform. This includes crypto-to-crypto and peer-to-peer trading on over 20 asset pairs.
The app allows users to access additional services: Gemini Earn and Gemini Pay. Gemini Earn allows traders to earn interest on their crypto holdings with up to 8.05% APY. Gemini Pay allows users to pay for goods and services in over 30,000 stores across the U.S.
Registration and verification
To register a Gemini account, users need to provide valid personal information which includes full name and email address. The email is then verified via a verification code that is sent to the address.
After the account is created, the next step would be to confirm the country of residence. Gemini is available in 60+ countries and all U.S. states.
In the next step, the phone number needs to be provided and verified via a one-time SMS code. Then users can choose one of the banks that are on the list. If the user's bank is not on the list, the bank account can be verified via a bank deposit.
For identity verification, Gemini requests users to provide a government-issued ID (passport, ID card, or driver's license). It usually takes two business days to verify user identity.
Privacy
Gemini collects user information for AML compliance and fraud prevention. However, some information can be used for other purposes. Details on how it works for different parts of the world can be found in Gemini's Privacy Policy. The platform maintains compliance with PCI DSS to protect debit/credit card data.
Security
Account security tools on Gemini include 2-factor authentication (2FA), hardware security keys support, and address whitelisting.
To store asset information safely, all user private keys are stored offsite at high-security data centers.
Pricing
Trading fees on Gemini depend on the trading amount. For orders less than $200, the fees range from $0.99 to $2.99. For orders over $200 in value, a 1.49% fee is applied.
Withdrawal fees are higher on Gemini than other similar exchanges, however, users can make up to 10 withdrawals per crypto per month for free.
BitPay is a crypto payment gateway designed for instant integration with e-commerce web services. The platform was founded in 2011 by Tony Gallippi and Stephen Pair. With headquarters in Atlanta, Georgia, BitPay services are available across the world besides the countries that are not allowed by US law like North Korea or Iran. BitPay is an easy-to-use and reliable platform to exchange crypto with fiat.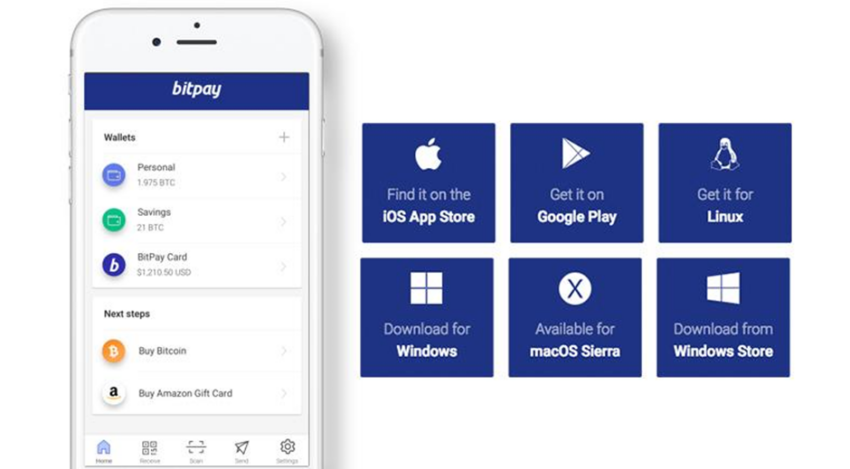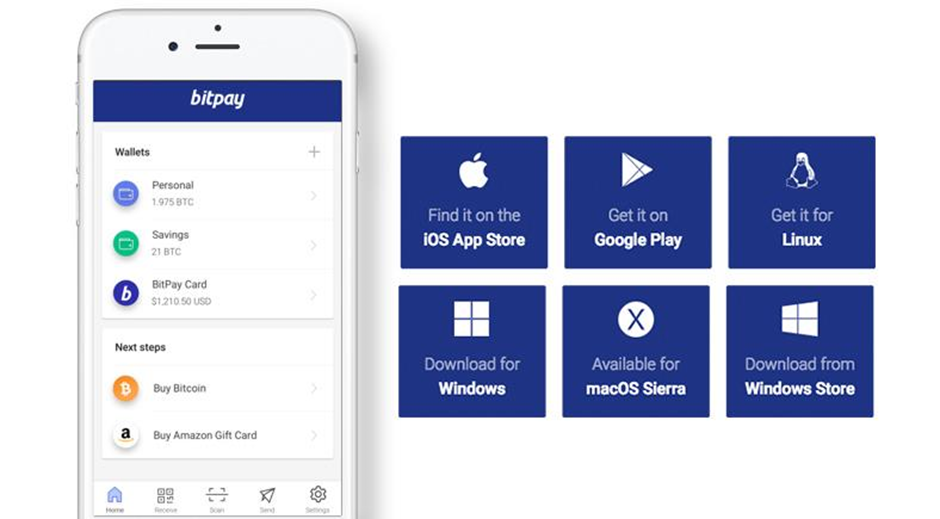 Mobile application
BitPay Wallet App allows users to buy, store, and exchange their crypto assets. Available on iOS and Android, the app supports payout in eight currencies and bank deposits in 38 countries. BitPay Card enables crypto to be easily spent online or in-store via Google Pay or Apple Pay. Users can also exchange crypto for gift cards from major retailers.
Registration and verification
Registration with BitPay Wallet App starts with choosing currencies that will be available in the wallet. The standard list of coins includes BTC, BCH, ETH, XRP, DOGE, and LTC. Other supported coins and tokens can be added later on. Existing wallets can also be imported using private keys.
Verification is required in order to increase the purchase limit beyond 3000 USD that is available with an unverified account. For verification, users are requested to provide a government-issued ID like a passport or driver's license.
Privacy
BitPay's Privacy Policy states that the company may share user information if required for business operations or requested by law enforcement.
Security
Since BitPay is a non-custodial wallet, users are responsible for saving and managing their private keys. User assets are secured with multi-sig and optional key encryption. This is the safest option for crypto storage as long as the keys are kept with proper caution.
Pricing
For personal accounts, BitPay doesn't charge any monthly or transaction fees. For business accounts, a 1% transaction fee is taken. Usual miner fees that are calculated by the blockchain apply. BitPay Card has an ATM withdrawal fee of 3% for currency conversion. Other than these charges, the app seems to be completely free to use.
OKEx is a Belize-based cryptocurrency trading platform that operates from Hong Kong. It is accessible for users from over 100 countries but it doesn't work for U.S. residents. The exchange provides a variety of services like spot and margin trading, lending, and perpetual swaps.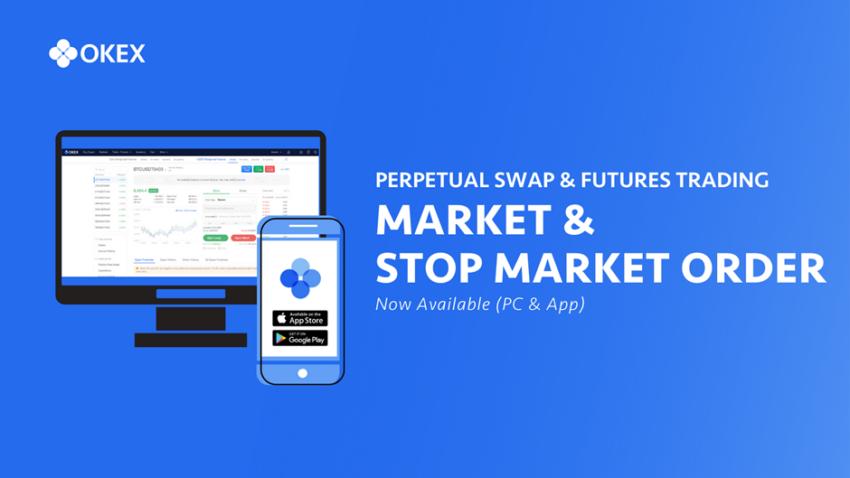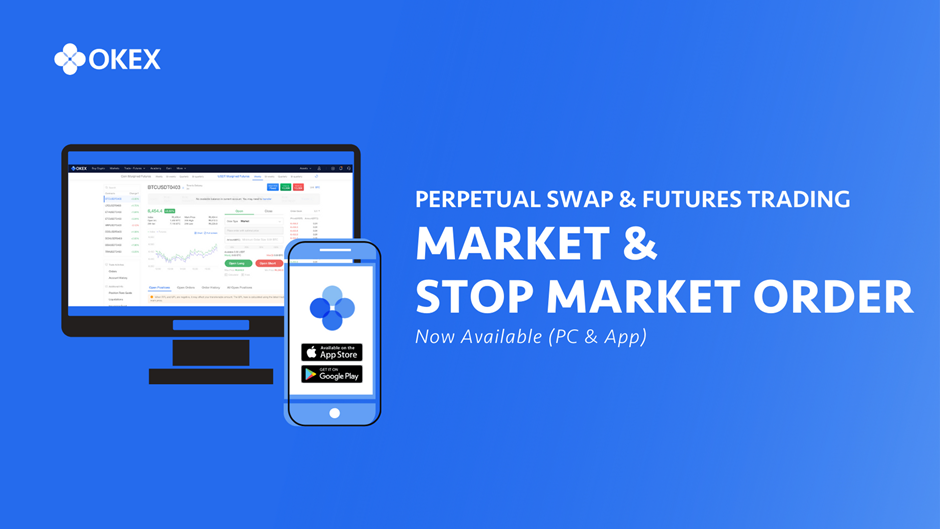 Mobile application
OKEx trading app is available for iOS and Android. The range of available fiat payment options includes Mastercard & Visa banks cards, bank transfers, Google Play, Apple Pay, and bank transfers. The platform accepts 40 fiat currencies including USD and EUR.
Registration and verification
Signing up for OKEx services requires users to provide a valid email address and a strong password. To verify an individual account, two steps need to be completed: firstly, the user needs to provide their full name, select their nationality, ID type, and ID Number. Secondly, the user needs to provide a photo of the ID that was provided in step one. After the verification process is complete, the withdrawal limit increases to 300 BTC.
Privacy
According to OKEx Privacy Policy, the platform may collect, use and/or disclose your personal data for its business or operational purposes. OKEx trading services comply with the Virtual Financial Asset Act ("VFAA") and are regulated under the authority of the Malta Financial Services Authority.
Security
There's a range of security features provided by OKEx starting with mandatory 2-factor authentication. Additional passwords may be set for funds withdrawal as an additional security level. Users can also create an anti-phishing code that will be included in any correspondence from the platform to prove its authenticity.
Pricing
OKEx fiat gateway allows users to buy certain assets like BTC and ETH with transaction fees as low as 0%. The fees overall differ depending on the trading instrument used so it will vary for spot, futures, and perpetual swaps. Commission also depends on the account type which makes the structure a little complex. Details can be seen on OKEx's fee schedule.
As can be seen from various features that these exchange services offer on their mobile applications, choosing one will depend on the user's location and overall needs. All of these apps allow buying crypto using fiat, however, different levels of privacy and security are provided. So picking one of the services we have discussed will be up to your priorities.
Disclaimer
All the information contained on our website is published in good faith and for general information purposes only. Any action the reader takes upon the information found on our website is strictly at their own risk.